Benjamin Cooper / Eva Shepherd

Benjamin Cooper born to William Cooper / Rachel Head in 1854/5 in Cinderford although no trace of his birth can be found in the Registrars office. Married Eva Shepherd in 1879 and died at an early age (42) in 1896 a few days before his last son Tom was born.Thought to have been buried in St Johns Church, Cinderford.
Eva Shepherd, born to William Shepherd / Sarah Watkins in Abbenhall, Married Benjamin Cooper in 1879, moved up north (Yorkshire, Goldthorpe / Thurscoe) after Benjamin died (1896) in the early 1900's and was married for a second time to Benjamin Bowen father to Ethel Bowen who was married to her son Tom.
Informant to the registrar on his death was William Peake (brother in law), he was married to Catherine Alice Shepherd, Eva's sister, also living in Greenbottom at the time.

Benjamin Cooper could be born to one of two families, both families lived in Littledean Woodside during the period 1852-1854 and had further children after Benjamin.
The only other chance of finding more details is from a family source that said that Benjamin Cooper (#1) was born in Abergaveny,Gwent, but this differs from a number of census records that show him living with William Cooper /Rachel Head, and place of birth as East Dean.

References

* A letter was sent to the registrar at Pontypool to ask if Benjamin Cooper was born in the Abergavenny/Aberavon district during the years 1854/55
* The reply:-

Dear Sir,
Re Benjamin Cooper 1854/55 I have checked the indexes of birth for both Abergavenny & Monmouth but regret have been unable to trace the entry you require. I would mention that although registration began in 1837 it did not become obligatory until 1874 so many births were unregistered.
I would suggest you check the indexes of birth for the whole of the country this would tell you if & where the birth was registered, a copy of General Register office index can be seen at Hereford Record office. The Old Barracks, Harold Street, Hereford. Telephone No 0432 265441 (it would be advisable to ring them first as it may be necessary to book a microfilmreader).
If from the information you gleen from these indexes you think I can help you further please contact me, I will be happy to help you all I can.
Yours faithfully
H. Bennett D.S.R. 0495 762937

So was the tree :-

| | | |
| --- | --- | --- |
| Benjamin Cooper | Arthur Cooper | Born 1853 |
| Elizabeth Chivers (1) | Benjamin Cooper | Born 22nd February 1854 |
| Elizabeth Bevan (2) | Sarah Cooper | Born 1857 |
| | Enos Cooper | Born 1861 |
| | Luther Cooper | Born 1863 |
| | Albert Cooper | Born 1867 |
| | Esther Cooper | Born 1870 |
or was it :-

| | | |
| --- | --- | --- |
| William Cooper | Sarah Cooper | Born 27th April 1845 |
| Rachel Head | Samuel Cooper | Born 18th September 1849 |
| | Lilla Cooper | Born 25th May 1852 |
| | Benjamin Cooper | Born 1854 ?? |
| | William Cooper | Born 21st March 1857 |
| | John Cooper | Born 25 January 1860 |
| | Rachel Cooper | Born 1862 |
| | Charley Cooper | Born 30 October 1867 |

National Census returns :-
1881 Census :-Area : East Dean, Holy Trinity, Greenbottom.
Benjamin Cooper
Age 26
Born 1855
Coal miner
East Dean
Eva Cooper
Age 22
Born 1859
East Dean
Benjamin Cooper
Age 1
Born 1880
East Dean
1891 Census :-Area : East Dean, Holy Trinity, Greenbottom
Benjamin Cooper
Age 36
Born 1855
Collier
East Dean
Eva Cooper
Age 32
Born 1859
East Dean
Ada Cooper
Age 12
Born 1878
East Dean
Benjamin Cooper
Age 10
Born 1881
East Dean
William Cooper
Age 8
Born 1883
East Dean ++
Flora Cooper
Age 6
Born 1885
East Dean
Grace Cooper
Age 3
Born 1888
East Dean
Reginald Cooper
Age 2
Born 1889
East Dean
++ After looking at the 1891 census a William Cooper was listed as a son to Benjamin Cooper born in 1883. This is probably a mistake in the census, the proper entry should, I suspect, read :-

(#5) Lillian Cooper Age 8 Born 1883 East Dean

| | | |
| --- | --- | --- |
| Benjamin Cooper | Ada Cooper | born 28/6/1879 |
| Eva Shepherd | Benjamin Cooper | born 9/3/1881 |
| | Lillian Rachel Cooper | born 8/1/1883 |
| | Flora Cooper | born 13/3/1885 |
| | Grace Magdelen Cooper | born 20/12/1887 |
| | Reginald Cooper | born 12/2/1889 |
| | Charles Cooper | born 9/3/1891 |
| | Ivor Cooper | born 4/12/1892 |
| | Gladys Cooper | born 14/2/1895 |
| | Tom Cooper | born 25/6/1896 |

* Memories of Greenbottom told to Mavis Eva Woodland (Trevithick) whilst Flora was staying with her at Chasewater, Cornwall :-

Episode my mother told to me about her life in Greenbottom :
Her father went to Cinderford every week on a Saturday. She always talked about her father as though her mother didn't go, she seemed though she seemed to be very fond of her father and it must have been a an awful blow when he died . He would bring back for the children a sugar mouse or a sticky bun. Many of the other children in the hamlet never got these treats so, if my mother was feeling in a good mood she would let one of them have a bite of her bun.
I told you about her new straw hat for which she was taken to Cinderford. She hated her hat and was playing around on a Sunday soon after when (#60) Billy Bayliss put his hand on her head and grabbed her hat and the crown parted from the brim whereupon mother hysterically ran crying to her mother, look what Billy Bayliss has done to my new hat.
Her mother had been voted into a charity school, before the education act, which was considered to be a very great privilege. She wore a grey cloak as part of the uniform. She wrote letters for the gypsies and in payment they would give her a decorated china plate and she had a number of these plates on the dresser and around the room.
Mother used to play with Sinfi (which rhymed with high) Lee ? (probably Butler) and her mother used to warn her not to because they'ed carry her off one day but she never took any notice. She said she never went into Sinfi's caravan but she looked in and it was spotlessly clean.
The children were put to sleep under the caravans. Blankets were fastened all around to keep out the cold and they were snug and warm inside.
They cooked everything in one pot. Mr Lee (Butler) would invite mother to have dinner there, many times, but she never would. Come on Flora he'd say. Its alright, but she never would. They cooked the food in net bags, meat in one, vegetables in another, suet pudding for afters in another. I don't think she new what happened with the gravy, whether it was drunk or discarded.

* Sinfoy Butler, baptised 10 February 1876, to Matthew and Leah Annabel Butler at Abinghall Parish Church. Her father was a Gipsy knife grinder / Tinker of no settled abode. She had a brother Isaiah Butler baptised at the same church on 9th November 1890. *

* From "The Forest of Dean by Humphrey Phelps" .....Matty and Lenny Butler were Gypsies and they lived at Horsepool Bottom and Mr Preddle, who had married their sister Sinfoy, lived in the corner. Matty ground knives and scissors and some times he would fall asleep on the path through the woods from Cinderford with his machine still strapped to his back. Lenny made baskets and pegs, and Mr Preddle made kettles, meat tins and saucepans. They may not have been rich in worldly wealth, but they did live close to St Anthony's Well. *

She was very fond of her eldest brother who died when he was 17. He loved birds and would catch them and cage them and feed them on strings of redcurrants etc. Their mother would say, you'd better turn that bird loose before your father gets home because father wouldn't tolerate wild birds being caged. One day Ben tied a piece of wool around a blackbird's leg to keep it. It got away and got caught by the wool hitching onto the roof and there was a panic to get it free before father came home.
Ben was taken sick - I should think after father died because he had a blackbird caged - and the day Ben died, the blackbird died too, now nobody's going to tell me that the bird wasn't fed after Ben was taken ill, but that's the story!.
One day there was an earth tremor. Ben was walking to work very early in the morning. He said later that the ground came up to meet him and the leaves on the ground swirled around in great circles. It was a most odd feeling. Mother said that all the plates on the dresser rattled about.
The boys used to play tricks on the girls. Mother told Flora to take a message to somebody who lived at St Anthony's well. Flora protested because it was getting dark and she didn't like walking through the woods. Her mother told her not to be so silly, to take friend and go. So she did. They hadn't got very far before white shapes flitted from the tree to tree in front of them and made moaning noises. The girls ran home terrified.
Father caught the boys with sheets and leathered them.
Father said he believed in god and everything but there were two things that he couldn't understand. Firstly if men were meant to smoke, why hadn't God put a chimney on top of there heads (he seems to have forgotten the nose conveniently) and also if God was all good and powerful, why did "He allow evil" in the world.
The geese would chase mother and her mother would get cross with her when she ran home frightened. Pick the gander up by the neck, she told her, and swing it around your head. One day she took her courage in her hands and did just that. She said she swung it around and around. It never came near her again. (I thought perhaps it didn't because it was dead by then but I didn't say so ! (you get the gist of the tale)
The old dear we talked to (Mrs Beddis) said Mrs Cooper who was a little fat women, put her on her lap one feast day when she was five Because she'd lost her mother in the crowds and she struggled to get down because she didn't like the smell. She supposed it was because it was a hot day and Mrs Cooper was fat and there wasn't a lot of water and washing done in those days !.
Mother told me her mother, presumably after the death of her husband, supported the large family by making underwear for the ladies of the numerous mansions in the area. She had one of the first sewing machines in the area and was a good embroidress. She has seen her still sewing in the early hours of the morning.
The old dear (Mrs Beddis) also told us that Flora came back for a holiday from London where was working as a dairy maid and she had her hat on the side of her head, tilted. They asked her why she was wearing her hat like that and she said, "This is how they're wearing them in London". This said the old dear went all round the houses of course.
Father rented 2 cottages next door to each other. He tilled the gardens and kept poultry, ducks, chickens, etc. ,said my mother when we had a duck for a weekend roast at Perranporth once, at home when we had duck we had half of one each ! (that put me in my place - again). They kept pigs, ate plenty of lamb but little beef.
Father helped to build the chapel which still stands. He was the choirmaster and put the tonic solfa on the kitchen door and tried to make the children sing but none of them could and he used to get very impatient and frustrated with them because of it.
As little work was done on Sundays as humanly possible. Father cleaned all the shoes on Saturday night, the vegetables were picked and prepared, etc, etc. Many Sunday mornings one of the Bayliss children would be sent to buy a cabbage. He'd grumble but would cut it. "If it wasn't for the fact that those children wouldn't get their dinner, "Eva he'd say , I shouldn't do it", but he always did.
Both father and Ben died, apparently from pneumonia. But there was a susceptibility to tuberculosis in the later Cooper families, so you can draw your own conclusions, one way or the other.
Mother reckoned she had smallpox as a girl. Not badly, but her mother kept her in her room and said nothing because it was a reportable disease and she would have to go to the fever hospital.
Whether Gladys (?) died from pneumonia or smallpox or indeed some other way, I don't know. As far as I know, I am the only person who knows about Gladys but my mother definitely told me about her, that she was a "sister who died", I think she said when she was about 12.
* From the School manager's logbook, S220/2/1 held at Gloucester Archives.
(Monday) 17th December 1894. 70 of the most regular children were admitted free to a Magic Lantern Entertainment given in the School on Friday evening. I have to record the death of one of my standard I children. The child, Grace Cooper (born 1887), was at school on Tuesday and died on the following Thursday night.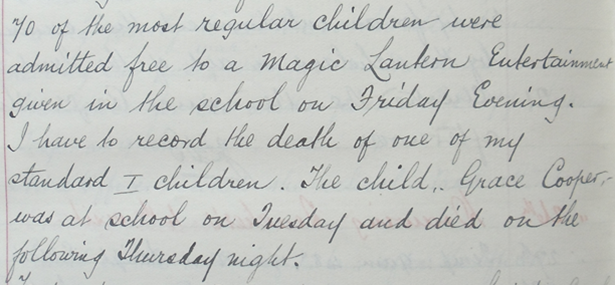 Grace Magdalen Cooper, born 20th December 1887, died (Friday) 14th December 1894 of Pupura Haemorrhagica. (from death certificate HC165750, Westbury on Severn, East Dean, No 353)
Purpura: Presence of hemorrhages in the skin, often associated with bleeding from natural cavities and in tissues. Major causes include damage to small artery walls (as in vitamin deficiency or allergic reaction) and platelet deficiency (in association with such disorders as lupus erythematosus and as a complication of leukemia or chemotherapy). Diseases affecting the bone marrow or spleen, and infectious diseases such as rubella (German measles).

Charlie died from influenza epidemic at the end of the 1st world war. The men were shipped over in open boats and many thousands died with it.
Reg died from TB in I think the 40's or 50's.
Uncle Ivor died just before mother in 1961
Uncle Tom died from silicosis in the 50's or 60's (this of course could have been confused with TB in miners)
I don't know what the girls died from . Ada died young. She was a very nervous person after a cat jumped out from a closed cupboard she opened where she was in service. She never got over it. That's the tale mother told me.
Mother used to get on well with cousin Flora, brought up by them and I supposed named "Cousin" because mother was Flora also.
The children went to school at the Plump. At one time her cousin was the schoolmistress. She took the teacher (I don't know if it was her cousin) a lovely rose but she had put pepper on it. Teacher took it and thanked her but nothing seemed to come of it, she thinks because the teacher was talking to someone else when she gave it to her.
The children walked together to school - a matter of about 3 miles I believe - and took their lunch with them. Mother was running to school one day, late, when one of the childrens' mothers called her. She took no notice and ran. In the evening the woman said,"Why didn't you stay this morning ? I only wanted you to take -'s lunch". She'd gone without it.
She used to get furious with the girl who sat next to her because she was left handed and always got her sock they were being taught to knit on 4 needles going around the wrong way !, the teacher always made Flora put it right for her and when she looked again it was going round the wrong way again !. (I can't see why it should make any difference so long as one was consistent !. But I suppose right is right and wrong is wrong in school circles, especially in those days.
Mother baked bread in a Dutch oven in the wall. It tasted more delicious than food in any other kind of oven, said my mother.